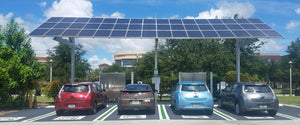 Smart Solar Power Planning for Forward-Thinking Cities
Putting together plans to create a solar-powered city is an excellent way to reduce your town's carbon footprint and show residents and guests that you are conscientious of how you use energy in earth-friendly ways. Having a vision and planning it out are two essential steps to moving forward with an energy-efficient city. Here are some ways to start thinking about creating a renewable energy plan for your community.
6 Forward-Thinking Ideas for Becoming a Solar-Powered City
Book a Call With a SELS Solar Consultant
SELS Solar works with communities, non-profit organizations, universities, and commercial retail businesses to create and implement forward-thinking solar-powered solutions in their cities. Our products lead the solar industry in looks, durability, lifespan, and remote abilities. You can control many of our products remotely and gain stats and data at your fingertips in seconds. Schedule a call today to discuss your city's renewable energy plan!
---