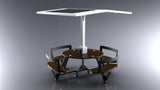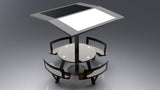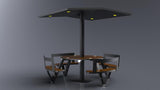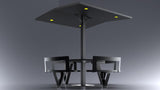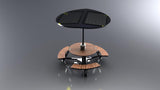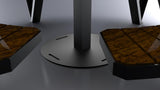 This state-of-the-art and heavy-duty smart solar charging table is an excellent addition to any outdoor space. The ST1020 RU provides a comfortable lighting experience with shade that raises the solar panels to make sure our customers stay cool through-out the day. With the ability to charge up to 6 devices at the same time and providing connectivity through a WIFI connection. (4 wireless charging pads & 2 USB stations)
The ST1020 RU comes with two different seating options:
Bench style seating

Chair style seating

Perfect for park and recreational areas, schools, and campuses.
Additional options include speakers, lights, emergency buttons, and can be customized according to your specific needs. Custom color and pattern options available. 
STANDARD SPECIFICATIONS
Solar Charging Stations and Outdoor Furniture – Technical Specifications

PV Module

160W Monocrystalline Impact-Resistant Glass Laminated Panel mounted in a Stainless Steel Bracket

High-efficiency monocrystalline cells

Different sizes available. Designed to meet your load requirements

Battery Power Storage

120Ah High performance Lithium (LiFePO4)

Cycle life over 2,000 times, Up to 4 Days of Autonomy

High temperature range tolerance, Low temperature battery options

Solar Charge and Lighting Controller

Smart MPPT charging system maintains battery and system life

Optional networking and connectivity

Programmable options and load usage

Activation Options

USB Ports: 4.5V/2.1A

Wireless Charging Pads

120V / 60Hz Outlets

Lighting

Wifi Router - 60ft

Smart Data Collection

Bluetooth Speaker

Motion Activation

Material Construction

Stainless steel or structural aluminum

Impact and chemical resistant polyester powder coating

Stainless steel security fasteners standard

Design

Various options and parameters to meet your project needs

Custom designs available for your project
DIMENSIONS
91" x 91" x 29.5" (2.3m x 2.3m x 0.75m)
UNIT PERFORMANCE
USB Charging Ports: 2 4.5V/2.1A USB-A
Inductive Charging Pad: 4 Qi Standard
120V - 60Hz Outlet 400W
Bluetooth Speaker
Wi-Fi  Router / Repeater: Up to 60ft/18.2m

Operating Ambient Temperature: -13 F – 149 F | -25 C – 65 C 
Smart Charging and Power Management
30hrs+ Autonomous Operation
POWER COLLECTION
Up to 160W PV

22.8% Efficiency 
MOUNTING / SECURITY
Ground Mount / Anchor
Locking Hardware Access
POWER STORAGE
Up to 1600Wh Lithium Iron Phosphate Batteries
2,000+ Cycle Rating, 15+ Years Life
Easy Upgrade and Replacement
OPTIONS
Accent Light Option
Powder Coating Color 
Custom Dimensions or Design
WIFI
Emergency Button
WARRANTY
Accompanied by 3-year limited warranty
---