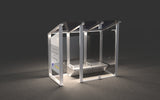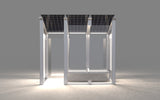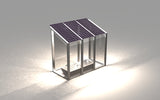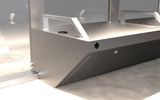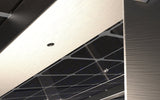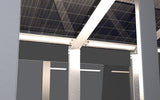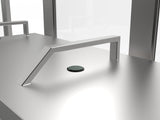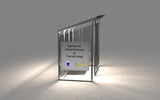 Smart Solar Bus Shelter
SELS' Solar Bus Shelter is the first of its kind. The bus shelter design makes use of Bi-Facial Solar panels that adds to the modern aesthetic. The form and function design make this shelter feel open-concept allowing for a bold statement of style and performance. The 6063 Aluminum construction offers a sleek and corrosion proof solar bus shelter ideal for any environment. 
Product Specs
Solar Panel: Each panel is 425W Bi-Facial Monocrystalline Silicon.
Structure: 6063 Aluminum | Powder Coating available in any color.
LED Output Power: 45 Watts LED.
Lumens: 1800 - 15,000 lm
Installation: Modular "plug-and-play" design. All pieces are bolted together on site.
Power Storage: High Performance LiFePO4 Batteries.
Options: ADA Compliant Pedestrian interaction allows for wheelchair access. 
Function: Solar Light System for shelters. LED lighting provides security and illumination. Discreet security camera for surveillance. Motion Sensor activates LED. Wireless and wired charging for all devices. AC power for larger consumption.
Protection degree: IP66 water resistant.
Working temperature: -25°C~65°C
Rainy/cloudy days: Lasts 5 days.
Dimensions:

H: 304.8 cm | 120 in
W: 152.4 cm | 60 in
L: 274.3 - 548.6 cm | 108 - 216 in
Smart Bus Shelter Design
The modular design makes this the most adaptable bus shelter available. Providing your campus or city with the ability to organically design the placement of the smart bus shelter. This plug-and-play style of installation allows for any length of shelter starting at 9' and growing to specifications you desire for your unique application. 
These uniquely modern solar bus shelters have LED bars activated by IR motion sensors that save on light pollution and energy. These technologies provide your campus or community with an even greater ability to make a meaningful impact on the future generations.
Call SELS Solar at (704) 495-3535 to talk to an informed expert that has the skills necessary to help you make the most of your bus shelter design.
Included are remotely operated discreet surveillance cameras. Wireless and wired charging ports as USB, USB-C, Charging Pads, as well as AC outlets are just some of the other products that may be combined to provide enhanced security and give your transportation consumers the peace of mind that keeps them happily coming back.
Transform dull waiting times into an engaging and useful experience using SELS Solar bus shelter design. Make your city or campus a place where even the furniture works toward the betterment of the community.
Call and make an appointment today and take advantage of SELS experience and craftsmanship bringing future proof solutions to your city or campus. Become a part of the new way of power management and join future generations in a cleaner more functional society with effective smart solar bus shelters and other products offered by the solar industry experts at SELS Solar. Call (704) 495-3535 today.
---