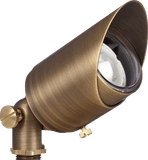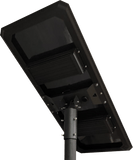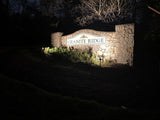 SELS' Sign-Series solar powered sign lighting systems are a perfect solution for businesses, property owners, HOA's institutions, and advertisers, that want to extend the effectiveness of their signage into the evening hours. A well-lit entrance helps your business and property get noticed in evening traffic and helps residents to feel safe when arriving home.
We can design our system with any type of low voltage lighting. Check out this list of a few reasons why moving forward with solar is the right decision for the future of your city, school or organization: 
Fully scalable for the most demanding sign lighting, up to twenty lamps with our largest version, this will depend on your location and specific load needs.
Low installation cost and minimal site impact with no trenching, cabling, or wiring
Great solution for homeowner associations, businesses, and billboard advertising
No ongoing costs with no electric bills or bulbs to change
Sign-Series – Technical Specifications

PV Module

High-Impact Glass-Laminated PV Modules

High-efficiency monocrystalline cells

Different panel configurations to meet desired amount of light

Battery Power Storage

High Performance Lithium (LiFePO

4

) and Gel VRLA for extreme lifecycle

Cycle life over 2,000 times, Up to 4 Days of Autonomy

High temperature range tolerance, Low temperature battery options

Solar Charge and Lighting Controller

Smart MPPT charging system maintains battery and system life

Optional networking and connectivity

Programmable lighting output for varied lighting needs

LED and Optics

100,000 hour L70 Rating

Wide range of color temperature options available

Up to 18,000 lumen output

UV and impact resistant lenses

Custom designed systems using a variety of lighting options

Material Construction

Structural aluminum, steel, and stainless steel options

Impact and chemical resistant polyester powder coating

Stainless steel security fasteners standard

Options

Motion and occupancy sensors available
Illuminate Your Signs with Renewable Power from Our Sun
Not only can businesses benefit from this sign lighting system. This sign can adorn any building, public space or even be used as a monument sign lighting for night use. Because this is a solar powered system, there is no digging for wire installation and tapping into the grid. Instead this product provides full versatility in order to help promote the information desired. 
SELS makes products that reduce the usual disruption during installation. The minimally invasive and minimally disruptive installation of these solar powered sign lighting systems can afford many opportunities to businesses, campuses and municipalities alike.
Call (704) 495-3535 today and take advantage of industry experts to help make the most of your investment in the future of your community. 
SELS Solar Off-Grid Sign Lighting Systems 
SELS' off-grid solar solutions require minimally invasive installation and no existing infrastructure. For effective monument sign lighting or other outdoor signage, merely secure the system and enjoy bright, reliable lighting all year round making signage easy to read.
Allow your guests, visitors or outdoor space users the ability to easily and reliably see and understand the information that you desire them to have. Communication through signage is timeless, but made all the easier with solar powered sign lighting systems from SELS Solar.
Call SELS Solar today at (704) 495-3535 and discuss how monument signs lighting systems and other products can help make your outdoor space one that people enjoy engaging.
---