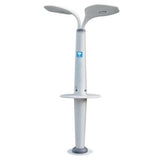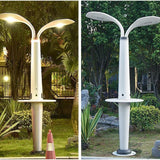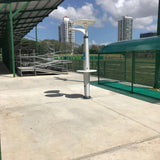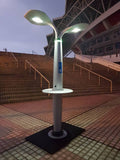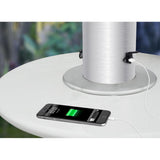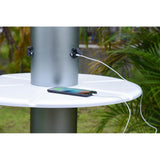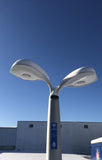 SELS Solar has designed and built a solar LED light with a charging station. Equip your outdoor spaces with advanced technology that draws power from the sun and puts it to use in your city or on your campus. Proprietary engineering from SELS Solar has built a product that will greatly enhance your populace's safety and enjoyment in outdoor spaces with a wifi access point.
Solar Light with Charging Station – Technical Specifications

PV Module

Resistance PV Module, ETFE-coated semi-flexible Maxeon PV modules, PVC Plastic, Teak Wood
High-efficiency monocrystalline cells
Different sizes available. Designed to meet your load requirements

Battery Power Storage

High performance Lithium (LiFePO4)
Cycle life over 2,000 times, Up to 4 Days of Autonomy
High temperature range tolerance, Low temperature battery options

Solar Charge and Lighting Controller

Smart MPPT charging system maintains battery and system life
Optional networking and connectivity
Programmable options and load usage

Activation Options

USB Ports
Wireless Charging Pads
120V / 60Hz Outlets
Lighting
Wifi Router
Smart Data Collection
Bluetooth Speaker
Motion Activation

Material Construction

Stainless steel or structural aluminum
Impact and chemical resistant polyester powder coating
Stainless steel security fasteners standard

Design

Various options and parameters to meet your project needs
Custom designs available for your project
Dimensions: H:290 cm | 114 in
Power, Light and Connectivity
Be part of the solution by providing a means for greater engagement of our digital reality while preserving the resources of our physical reality. With products like this light with a charging station, SELS Solar provides a means to break away from the confines of traditional city and campus lighting solutions. We have moved the industry forward with ingenious designs built to enhance conveniences and usability of your lighting infrastructure.
It is not all just about power but also connectivity provided by the outdoor wifi access points. These access points work to connect your residents or outdoor space users to the information or entertainment portals they are accustomed to accessing. By using proven robust technology and engaging the social conscience in a meaningful way, these lights with USB ports charging station offer solutions without sacrifice.
Enjoy the benefits that solar power brings to your area of concern. These lights with an outdoor wifi access point give you the ability to plan and apply light, power, and connectivity without the traditional challenges that normal power grid lighting presents. Free your city or campus from the chains of past technology and move toward a brighter and better future by calling SELS Solar today. Call us at (704) 495-3535 and talk to an industry expert that wants to help you satisfy your needs with a host of customizable products designed to bring effective solutions. 
---