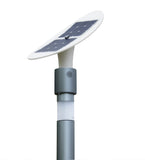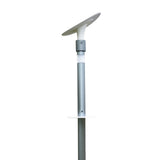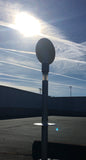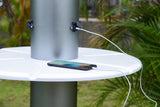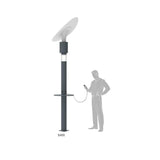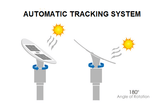 Public Phone Charging and Lighting Stations
Store up the energy from the sun during the day and unleash it for the enjoyment of your city, campus or organization at night with an attractive modern LED light and solar charging station. This product enhances the outdoor space of any city or campus. Areas where people congregate can benefit from the advanced design and engineering made possible by SELS Solar. Made in the USA for unparalleled durability and functionality, these public phone charging stations provide a means to stay connected and safe during all times of the day or night. 
Solar Charging Stations and Outdoor Furniture – Technical Specifications

PV Module

Resistance PV Module, ETFE-coated semi-flexible Maxeon PV modules, PVC Plastic, Teak Wood
High-efficiency monocrystalline cells
Different sizes available. Designed to meet your load requirements

Battery Power Storage

High performance Lithium (LiFePO4)
Cycle life over 2,000 times, Up to 4 Days of Autonomy
High temperature range tolerance, Low temperature battery options

Solar Charge and Lighting Controller

Smart MPPT charging system maintains battery and system life
Optional networking and connectivity
Programmable options and load usage

Activation Options

USB Ports
Wireless Charging Pads
120V / 60Hz Outlets
Lighting
Wifi Router
Smart Data Collection
Bluetooth Speaker
Motion Activation

Material Construction

Stainless steel or structural aluminum
Impact and chemical resistant polyester powder coating
Stainless steel security fasteners standard

Design

Various options and parameters to meet your project needs
Custom designs available for your project
Dimensions
H: 360 cm | 141 in
W: 44 cm | 111.8 in
Durable and Dependable
Battery life is vital to the success of solar applications. These charging stations use an MPPT system to maintain the battery and charging components for extended life and optimal use of energy that enhances SELS Solar's solar charging station and other products.
These well designed products use cutting-edge materials that focus on delivering the most from solar energy. All of the products that SELS Solar offers make use of advanced materials and specialized battery chemistry that allows these public phone charging stations to endure the test of time. Most environments can benefit from SELS Solar charging stations, lights and other solar products. 
Make sure that your residents or campus visitors always have access to the power necessary for them to stay engaged in our modern communities. Join others that are reaping the benefits of products like this unique solar charging station.
Giving your population access to products that increase their quality of life creates an environment of appreciation and cooperation. Also, it is important to note the current power preference trends in society and make future investments with such trends in mind. 
SELS Solar makes implementation of solar energy much easier by lending you their expertise to help your city or campus look the best it can while providing additional safety and power resources to those who access the space and use public phone charging stations.
---