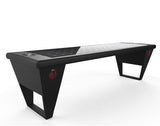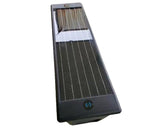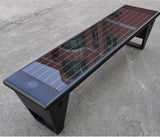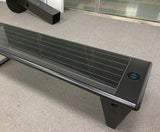 The Functional and Attractive Solar Panel Bench Solution
SELS Solar's urban charging stations are the perfect solution for cities and parks looking for high-quality outdoor furniture with dual utility for meeting users' demand for connectivity and device charging. Never has it been so simple to provide public spaces with amenities like accent lighting, WiFi, wireless charging, USB device charging, Bluetooth audio, or other options according to customer needs. Guests will enjoy the outside at this custom charging station.
Solar Benches for all Visitors
Our heavy-duty commercial-grade solar-powered SB1010 smart bench is a perfect addition to universities, train stations, park facilities, shopping areas, stadiums, picnic areas, or any outdoor environment requiring seating. Installation is easy with pre-drilled mounting holes, and you can install the bench on any surface.
Solar panel benches provide a comfortable and safe place for visitors and employees to sit, take a break, recharge, or enjoy outside social time. With a modern look, these benches are great for all outside environments and let visitors know that your organization is earth-friendly and people-focused. Pair these urban charging stations with street lights to give additional lighting and allow guests to enjoy a quiet sit anytime, day or night.
Build a Safer Outdoor Area
SELS Solar is a leading company in reducing the carbon footprint with modern solar LED lighting, furniture, security systems, and more. Commercial and government organizations can enjoy the benefits of saving at the bottom line while providing an eco-friendly solution to safely allow visitors in their parking lots, trails, and surrounding areas. Call our experts today to discuss installing new solar panel benches.
---