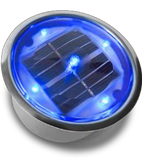 Modern Outdoor Waterproof Puck Lights
If your organization is looking for attractive lighting to bring color and creativity to your outdoor garden or walkway, SELS Solar's 4-inch solar lights are perfect. These small lights will brighten any walkway or driveway and display fun, engaging designs throughout your pavement or soil areas. The solar features give these lights long-lasting illumination throughout the night.
LSP-Series:
SELS Solar's solar LED pavers are a new kind of solar lighting product. Made in the U.S.A. with robust technology and durable materials, these outdoor waterproof puck lights have a quality you haven't seen. They outlast other solar products by years, are fully waterproof for all weather conditions, and add light to underwater spaces.
LSP4:
The solar LED light pucks come in various colors, such as red, blue, white, etc. You can place them in paved walking areas, stone landscaping, underwater pond displays, and more. With a fully sealed, bright stainless steel body, the LSP4 is small enough to incorporate into your landscape but big enough to make a statement.
Design Your Outdoor Solar Area
SELS Solar understands that every commercial business and community organization has a unique design and layout. Therefore, we create plans based on your organization's space instead of a one-design-fits-all method. From 4-inch solar lights to street lights to security cameras to solar charging furniture, SELS Solar has all your outside lighting needs covered.
Become part of the fast-growing community of residential and retail organizations working to reduce the carbon footprint with sustainable areas by installing outdoor waterproof puck lights. Call our expert team to start designing today!
---