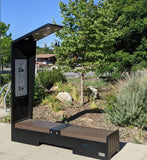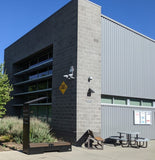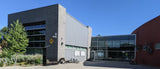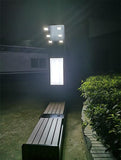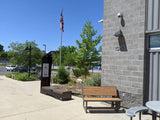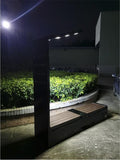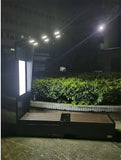 Functional and Attractive Smart Solar Charging Benches
SELS Solar's benches with charging capabilities are an excellent addition to any commercial or community outdoor area. The charging station provides a place for employees and guests to charge any mobile device (via USB-C or wireless charging), while resting and enjoying the fresh air. 
Our heavy-duty commercial-grade solar-powered SB1050 charging bench is perfect for universities, train stations, recreational areas, parks, trails, stadiums, picnic areas, or any outdoor seating space – offering a lit advertising display to communicate events, or just to include a map of your facility. Our team can quickly and easily install the SELS Solar bench to any surface with pre-drilled mounting holes. 
SELS Solar provides a variety of solar LED lighting systems and solutions to give your outdoor space the ambiance of safety with reliable lighting. Smart solar benches, tables, and other outdoor furniture provide a place for visitors to relax and feel comfortable using their devices. Reliable and long-lasting park and street lighting systems allow everyone to enjoy the outdoors at all times, day or night. 
Unique Plans for Individual Companies
Each commercial and residential organization has a specialized plan for providing additional lighting, seating, and safety to their outdoor areas. SELS Solar project managers work with each company individually to create specific designs for your space and vision. Our attractive US-made lighting systems and cameras can even mount to existing posts or other onsite structures.
Find Your Solar Products Today
Request our product catalog to start creating your new outdoor space focusing on reducing the carbon footprint. Treat your community guests with a sustainable place to use their devices with SELS Solar smart bench and charging stations.
---