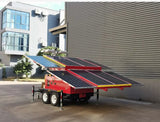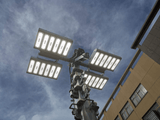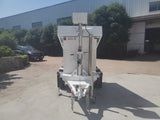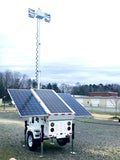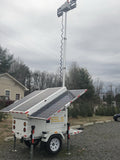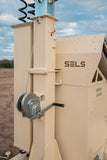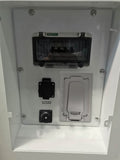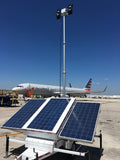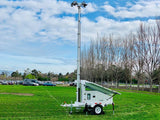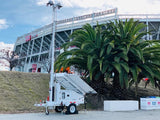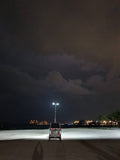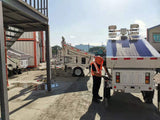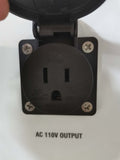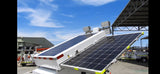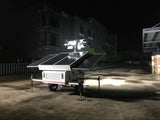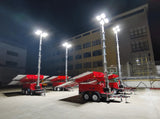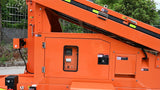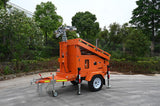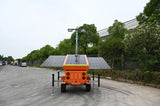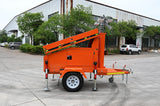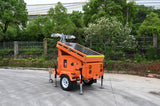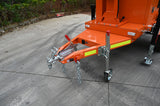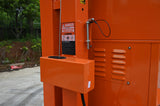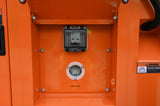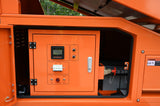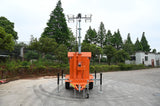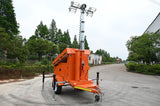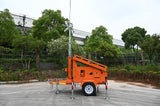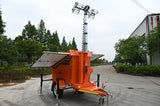 SELS' Mobile Power Units are a rugged solution for demanding site requirements including security lighting, surveillance, communications, and miscellaneous power needs. Zero upkeep or maintenance costs required making SELS' power towers the ideal solution for temporary or long-term deployment. SELS' designs are optimized for performance and reliability ensuring continuous use and on-demand power.
Up to 2720W of solar power generation for the most demanding configurations
Easy expansion and stowing of solar panels for quick deployment and power collection
Customizable component selection available for a wide range of applications
Fully welded structural steel construction and wide-base outrigger jacks provide stability in any location
Extra long detachable tongue, forklift pockets, and dual axles offer a variety of transport methods and storage options
Up to 38kWh power storage creates a system capable of providing the power needed for any application
Available with a variety of receptacles, input and output power options, and components, anything is possible
Locking, weatherproof enclosures allow our systems to be used in a range of environments with no concern for tampering or damage
High strength aluminum masts up to 30' can support over 1200W of LED lighting, several surveillance cameras, or any range of options
Electric or hydraulic mast controls and directional light adjustment from the ground allow for fast setup
Monitor system life and diagnostic notifications and setup automatic load control for near autonomous operation
Mobile Power Unit – Technical Specifications

PV Module

Impact Resistant PV Modules

High-efficiency monocrystalline cells

Different Panel Configurations, Up to 2720W for the most demanding configurations.

Adjustable Solar Tilt Angle

Battery Power Storage

Gel VRLA for extreme lifecycle

Cycle life over 2,000 times, Up to 4 Days of Autonomy

High temperature range tolerance, Low temperature battery options

Solar Charge and Lighting Controller

Smart MPPT charging system maintains battery and system life

Optional networking and connectivity

Programmable options and load usage

Options

Electric or Hydraulic Mast Controls

Surveillance Cameras

Solar as Generator

Lighting up to 186,000Lm

Communications Equipment

Material Construction

Fully welded structural steel construction

Impact and chemical resistant polyester powder coating. Marine coatings available.

Stainless steel security fasteners standard

Towing

2" Ball, 2-5/16" Ball, Lunette Ring

Side and Back Forklift Pockets
Product Name

MPU-22xx

MPU-13xx

MPU-14xx

MPU-24xx

MPU-26xx

MPU-28xx

Solar Panels

2

3

4

4

6

8

Solar Power

680 W

1050 W

1360 W

1360 W

2040 W

2720 W

Battery Max Capacity

Up to 9,600 W-h

14,400 W-h

Up to 38,400 W-h

Battery Type

Gel VRLA / LiFePO4 / NiMH

Dimensions
(L x W x H)

Closed / Towing *

133" x 96" x 96"

133" x 51" x 96"

133" x 96" x 96"

Open / Operating

133" x 96" x Mast Ht

133" x 135" x Mast Ht

133" x 166" x Mast Ht

Mast Height

15', 20'

15'

20'

25'

30'

35'

Mast Operation

Manual

Electric

Hydraulic

Axle

Single

Double

Receptacle Power Output

120 VAC or 240 VAC, 12 - 96 VDC, 5 VDC USB

Charging Connector

120VAC

5-20R 20amp

240VAC

Electronics Options

LED Lighting, Surveillance System, Communications Equipment, Solar As Generator, Customization

Towing Options

2" Ball, 2-5/16" Ball, Lunette Ring

Light Power

Up to 200W
(31,000 Lm)

Up to 400W (62,000 Lm)

Up to 600W (93,000 Lm)

Up to 800W (124,000 Lm)

Up to 1200W (186,000 Lm)

Solar Tilt Angle

0° - 50° from Horizontal

Towing Weight

1,650 lbs

2,550 lbs

2,650 lbs

3,200 lbs

4,200 lbs

5,500 lbs

 

 

 

 

* Removable tongue reduces overall length by about 42" 
Contact us for customization questions and to explore site monitoring / safety and security possibilities for your application.
---