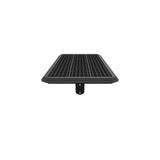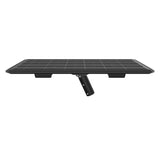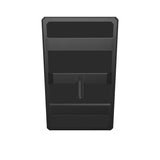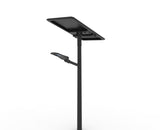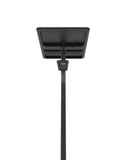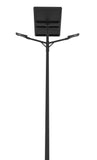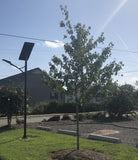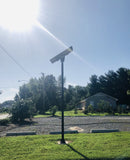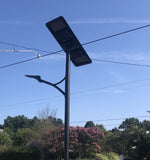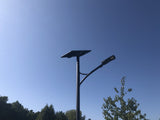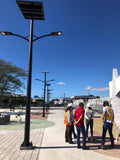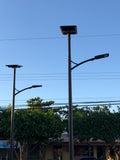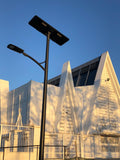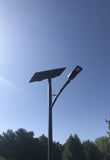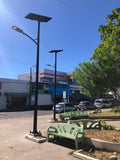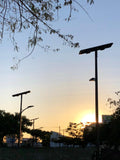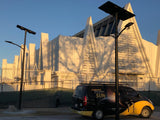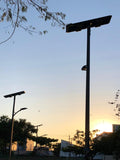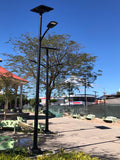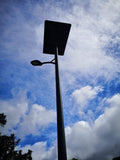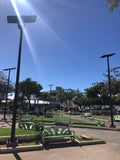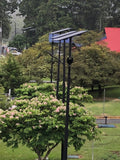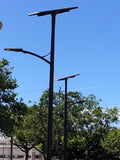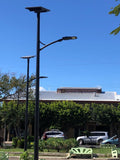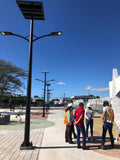 Smart Solar Street Lights on a Pole
SELS Solar's ultimate fully-integrated smart solar Street Light System (STL) offers an extremely simple installation method compared to other solar powered lights. All system components are housed below the solar panel making the STL-Pro a perfect solution for retrofits. Choose from standard Lithium Iron Phosphate or low-temperature lithium for an easy solar power system solution in any location or environment. The solar panel can also be adjusted bi-axially for incrementing solar power collection.
STL-Pro – Technical Specifications

PV Module

High-Impact Glass-Laminated PV Modules

High-efficiency monocrystalline cells

Aluminum panel casing and fully-adjustable panel bracket

Battery Power Storage

High Performance Lithium (LiFePO

4

)

Cycle life over 2,000 times, Up to 6 Days of Autonomy

High temperature range tolerance, Low temperature battery options

Solar Charge and Lighting Controller

Smart MPPT charging system maintains battery and system life

Optional Networking and Connectivity

Programmable lighting output for varied lighting needs

LED and Optics

100,000 hour L70 Rating

High Output CREE LEDs

Wide range of color temperature options available

Up to 18,000 lumen output

International Dark Sky Association (IDA) Compliance and Design Lights Consortium (DLC) registered fixtures

Material Construction

Structural aluminum, steel, and stainless steel options

Impact and chemical resistant polyester powder coating

Stainless steel security fasteners standard

Options

Designed for longevity based on project needs and specific location

Motion Sensor and Occupancy Activation Options

Security Fasteners Standard
The Most Compact and Reliable Solar Smart Street Light Solution
SELS presents the ultimate fully-integrated solar street light system. With a bi-directional adjustment system, you can adjust the orientation and the tilt of the solar panel. These solar lights on a pole also incorporate the latest lithium iron phosphate technology with voltages that vary from 12.8V to 25.6V and our proprietary smart MPPT controller, that has the capability to control your smart street light from any device with an internet connection.
Our solar street light STL Pro is extremely easy to install, with adjustable brackets that can fit to any existing pole. You can retrofit any existing light with a smart solar street light, and save thousands of dollars in installation costs and hundreds of dollars in power savings.
We can also provide you with an aesthetic aluminum pole or steel pole, based on your project needs.
Our STL pro-solar light capabilities range from 4500LM to 12000LM giving you the option to light up any outdoor space, from parking lots to road lighting.
SELS Solar uses the best components to construct high efficiency long life products designed to meet the needs of your city, campus or organization. Built and designed in the United States with a passion to make sustainable energy available to whole communities of people ensures SELS Solar will help you make the right choice for your organization or municipality.
Whether you need our solar lights on a pole or want to retrofit existing lights with new, fully-integrated smart street lights, call SELS Solar today to discuss customization for your specific location, and project needs.
---