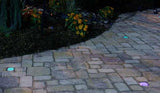 Create Modern Pathways with LED Pavers
Are you looking for ways to bring a new pattern and display to your public recreation area? SELS Solar has 4x4" solar LED paver lights that will brighten any outdoor or underwater space. The attractive solar pucks are earth friendly and durable for outdoor use during any weather conditions.
SELS Solar works on projects with commercial and community organizations, such as universities, parks, recreation centers, and retail parking lots, to create aesthetically appealing lighting systems, solar charging furniture, and security cameras that create safe and well-lit places for visitors. Solar LED pavers are excellent for perimeter walkways, designs in pavements, and water areas to give ambient light and sleek designs. 
LSP-Series:
SELS Solar's lighted solar pavers are bringing forward a new type of solar product with smart technology and rugged materials. The powerful 4x4 paver lights work for years, not months, and can go anywhere outdoors due to the modern design and sustainable parts. Since they are fully waterproof, these pavers can go underwater to create beautiful illumination in your water areas.
LSP44:
Our smallest paver-style light, the LSP44, creates a perfect accent in any of six available colors, such as green, orange, and purple, in two shape options, circle or square. The US-made paver has a stainless steel body, fully sealed for the most demanding outdoor environments.
Display Colorful Lights
Let your visitors enjoy new lighting designs throughout their walking areas with SELS Solar's 4x4" solar LED paver lights and see the difference earth-friendly products have on your budget and outdoor space.
---