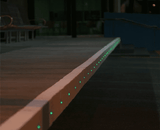 Illuminate the Path with LED Solar Puck Lights
With a fully sealed, bright stainless steel body, the LSP2.5 brings subtle highlights to any environment. Just 2.5" in diameter, our smallest model is anything but delicate, standing up to anything you can throw at it.
Create a bold and elegant look for your driveways, parking areas, bike paths and other areas by using a responsible lighting choice. Solar puck lights are the next generation in outdoor lighting. The possibilities are nearly endless. Combined with easy installation and many color choices provide you the tools you need to clearly define or decorate your outdoor space with solar puck landscaping lights.
Because of SELS Solar's hard work in the design and implementation of innovations in the solar lighting industry, there are many options for your city or organization to provide attravice and helpful lighting without the need for massive disruption of existing surfaces and landscaping.
Just one benefit of solar power is that our products can be used as a replacement of – or in addition to – exterior lighting with minimal disruption of the application area.
Next-Generation Lighting
Solar puck lights are the next generation of demarcation and exterior decorative lighting. With many color choices and the longevity inherent in LED lighting systems, you can be confident in long hours of rigorous operation. These solar puck landscaping lights are meant to be used for commercial and municipal application so they will continue to provide light in the dark for years to come.
Enhance the safety, beauty, and outdoor usage of your open spaces – providing the feeling of security that outdoor lighting offers.
Call SELS Solar today and ask how solar puck lights can transform your outdoor area into a vibrant and safe environment for the individuals that use your outdoor spaces. Solar puck landscaping lights will give you performance and style that moves your outdoor areas into the future with technology from SELS Solar.
Join other communities and reap the benefits that solar technology has to offer. Take a look at other satisfied communities that made the switch from traditional lighting solutions to the improved lighting technology now available to your community or organization.
---