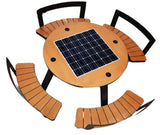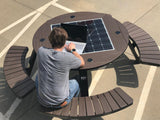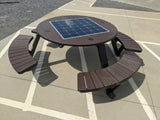 Solar-Powered Picnic Tables
Our attractive and heavy-duty smart solar charging picnic table is an excellent addition to parks, campuses, employee recreation areas, and many other outdoor spaces. This table provides a place for people to enjoy the outdoors and charge up to 6 devices (2 Charging pads & 4 USB ports) at the same time. WIFI connectivity is also available.
Additional options for our solar-powered picnic tables include speakers, lights, and emergency buttons - outlets for laptops – all of which can be customized according to your specific needs.
Solar Charging Stations and Outdoor Furniture – Technical Specifications

PV Module

PlexiGlass Impact Resistance PV Module, ETFE-coated semi-flexible Maxeon PV modules, PVC Plastic, Teak Wood

High-efficiency monocrystalline cells

Different sizes available. Designed to meet your load requirements

Battery Power Storage

High-performance Lithium (LiFePO4)

Cycle life over 2,000 times, Up to 4 Days of Autonomy

High-temperature range tolerance, Low temperature battery options

Solar Charge and Lighting Controller

Smart MPPT charging system maintains battery and system life

Optional networking and connectivity

Programmable options and load usage

Activation Options

USB Ports

Wireless Charging Pads

120V / 60Hz Outlets

Lighting

Wifi Router

Smart Data Collection

Bluetooth Speaker

Motion Activation

Material Construction

Stainless steel or structural aluminum

Impact and chemical resistant polyester powder coating

Stainless steel security fasteners standard

Design

Various options and parameters to meet your project needs

Custom designs available for your project
STANDARD DIMENSIONS
80.5" x 39" x 30" (2.0m x 1.0m x 0.76m)
UNIT PERFORMANCE
USB Charging Ports: 4 11W USB-A
Inductive Charging Pad: 2 Qi Standard
Wi-Fi  Router / Repeater: Up to 25m

Operating Ambient Temperature: -13 F – 149 F | -25 C – 65 C 
Smart Charging and Power Management
POWER COLLECTION
MOUNTING / SECURITY
Ground Mount / Anchor
Locking Hardware Access
POWER STORAGE
Up to 1600Wh Lithium Iron Phosphate Batteries
2,000+ Cycle Rating, 15+ Years Life
Easy Upgrade and Replacement
OPTIONS
Accent Light Option
Powder Coating Color 
Custom Dimensions or Design
WIFI
Emergency Button
WARRANTY
Accompanied by 3-year limited warranty
Our solar-powered picnic tables can add to, or replace existing fixtures to maximize use of your outdoor areas.
Solar power is clean, renewable and in demand. SELS solar charging picnic tables and other product lines make it easy to order and install devices that enhance the enjoyment of individuals using your outdoor space. Be a leader in conversion from traditional systems to the freedom of solar.
Partner with an industry leader to bring your vision of the future to life. Solar-powered picnic tables combined with outdoor solar LED lighting provides a comfortable and inviting environment. SELS Solar offers you the years of expertise and innovative thinking to make your outdoor space safe and usable all hours of the day or night.
Call or make an appointment to talk with SELS Solar today to discuss how your outdoor areas can benefit from an extensive list of products that can be tailored for your community or organizations specific needs. With only 8 weeks from design approval to shipping you can count on getting your solar-powered picnic tables in time to satisfy your outdoor furniture needs.
---